How do i schedule an appointment at the texas dmv: If you are a texas resident and would like to drive your vehicle here, then you may need to follow the province rules & regulations of driving. Likewise, A driver's license is an essential document to have while driving the vehicle on roads. Our today's guide help you in finding the faster and easier way to schedule your texas dmv appointment to get your driver's license, renew driver's license in texas or replace it. 
Most of the DPS offices don't allow appointment booking services, the only exception offices are those allow for scheduling a driving license test for a particular date & time.
By scheduling texas driver license renewal appointment you don't need to wait in a long queue to submit your application. You need to take many tests for driver's license, vehicle license or registration and many more. In texas, you may need to schedule an appointment to take any of these tests and get qualified for the documents.  As the limited space is available for booking, it is recommended to schedule the appointment week's before you have availability. 
How To Schedule An Appointment At The Texas DMV
Also, you can schedule a appointment here (public.txdpsscheduler.com) as well for ID card or driver's license related services.
First Enter Texas Card Number such as DL, ELC, ID
Then Enter Your "First Name" After The "Last Name"
After That Enter DOB (Date of Birth) In MM/DD/YYYY Format
In Last Box Enter Your "Last Four Digits of SSN Number"
Then You can Click On "Login" and book texas driving license appointment or for any other services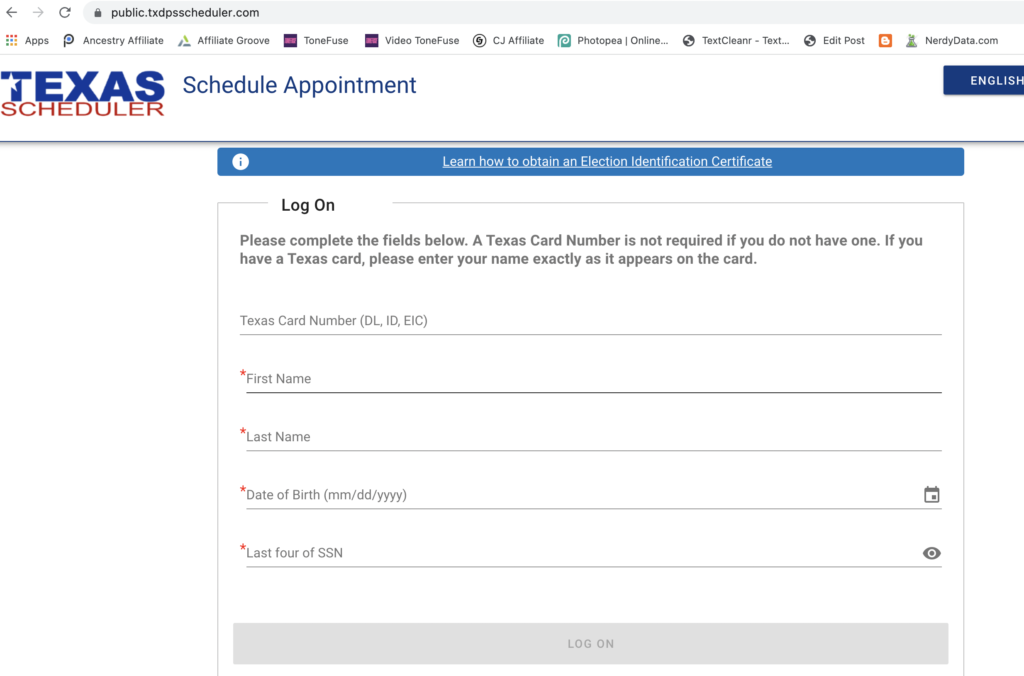 How To Schedule An Appointment At The Texas DMV (Option 2)
Scheduling an appointment at dmv texas is easy that anybody can do and get their paperwork done easily. A person must need to be aware of the process clearly and follow the rules and regulation retain by government. If you schedule texas drivers license replacement appointment or any other serive from below list and reach on the specified date & time, it will not only save your time but also the process will be completed quickly.
For your driving license application or texas vehicle registration appointment, you can schedule a appointment on DMV texas by online, phone call or in person at office located near you.
Follow the process to request an appointment:

Sign in to Texas DMV at

https://www.txdmv.gov/

.
Select the online services Vehicle Sales, Driver's license/ID, registration or titles etc
You can submit application for appointment, exam, ID card, renew your license, request a duplicate, make payment or changes, etc.
However, You can check operational hours and access phone numbers
Some DMV texas offices will also be able to assist you in person or others from telephone service.
Best Time to Visit DMV Texas Offices
If you didn't get any appointment for DMV texas, you can scheduled your visit to DPS office during the time interval when likely to be a few people available there in waiting queue or you can renew texas drivers license online through the website as well. In the peak visiting hours, the given waiting duration may easily reach to couple hours. No one wants to spend their entire day for just completing a simple registration process.
You may experience heavy waiting time during:
Lunch time around noon. Everyone tries to get their paperwork done during their break hours.
First & last working day of week

 

Beginning & ending of every month.
Before and after the holidays & extended time of unavailability.

 
Plan your visit before the rush period happens:
Before usual lunch hours better to as soon as office opens
During middle of month
During middle of the week.
Texas DMV Online Services List
One of the main service Driver's licenses might be available at texas dmv portal but you should need to browse the online system for the specific services you are looking for. Services that can be available at texas dmv online system are:
Vehicle Title & Registration
Driver's License Test
Florida ID Card application
Vehicle Inspection
Texas Drivers License Replacement
Texas Drivers License Renew
Texas Drivers License Registrations
New Driver's license application
Required Documents for Texas DMV Appointment
Before moving for DMV appointment you should need to have some documents. Not having the appropriate documents may lead to cancelling the appointment. If you are going for driver's test appointment you should have:
Learner's permit or CDL permit
Proof of U.S citizenship or presence like passport or DOB certificate.
Two residency proving documents for texas like utility bill or lease.
Proof of social security number
Proof of vehicle registration
Insurance proof
How to Cancel or Reschedule DMV Appointment At Texas
If you need to cancel or reschedule your appointment at DMV texas due to any reasons then do it as soon as possible. To reschedule or cancel the appointment you need to contact DMV. Texas may enable you to make online changes whereas the other states you need to contact through phone.
Rescheduling the appointment at Texas DMV as soon as possible will enable you to get a new appointment in near future without paying any potential fee. Some locations DMV charge you a change feed if notice given is not enough. Others prohibit you from making new appointments.
Texas DMV Offices List
As we all know, the DMV texas is an authorized office dedicated to serve anyone in their state who would like to process their vehicles, driver's license or identity card documents throughout the state. Offices information provided here please check there you will every single office timings and services list and phone number to book appointment in that particular dmv office.